This past Sunday I had the pleasure of attending Costume Academy, which is a one-day mini-workshop-oriented learning experience held at Berkeley. There are three sessions of an hour and a half and then some time for a mini-bazaar shopping room as well. There's 3 or 4 things you can take per session, and what I took was:
- The Cocky Cockade: Rosettes for 18th C. Hat and Hair
-
An Elegant Feather Headdress for the Titanic Era
- Paul Poirot Teens Turban
The great thing is that you get to learn 3 new things in one day and you almost never get bored because the classes are never quite long enough. the bad thing is that the classes are never quite long enough so you end up coming home with 3 more UFOs (Un-finished Objects).
Overall, I really enjoyed my classes and learned a lot! I love cockades and want to learn more about how to make the crazy advanced ones.
Candice Kling
has some amazing examples such as: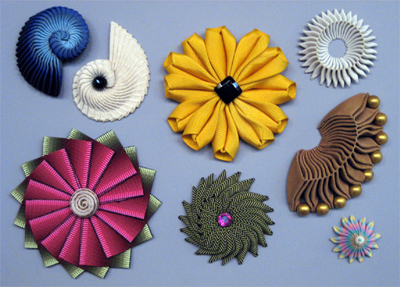 Someday I will go up to Seattle to take her 2-day workshop to learn how to make these. They are fascinating and beautiful!
My Headdress turned out ok, although I feel like one of Cinderella's evil Stepsisters on their way to the ball:
And my turban is well underway and looking like it will be beautiful! I will post pictures when I have them. For now though, it is all Titanic outfit all the time! (UGH!)